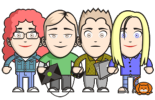 I thought I'd put this in a separate thread rather into general chitchat....
There's the verdict: big lump, stage 2 ductal cancer.
Here's the plan: Mastectomy in June, maybe some radiotherapy after. Hopefully no Chemo as lymphs seem to be ok, but won't know that until after operation.
Seeing consultant surgeon tomorrow (who apparantly at the meeting on Monday said he wants to see me before the bank holiday, which is nice of him), and hopefully I'll have a date for op then.
I am quite positive: If I don't need chemo, I will probably not miss out on uni - at least not academically, may have to postpone placement a bit, but that's ok - and can stay with my cohort.
Also I seem to have millions of friends who all love me! :-)
Any advice on how to tell the children though - considering their dad died of cancer four years ago???
Posted on: May 31, 2012 - 4:07pm
Parenting specialist

Hello Hopeful
Glad you started a new thread.
I am very sorry to hear that you have had cancer confirmed. I am positive you have lots of friends that love you. All your friends on here will be supporting you too.
There's a lot of info to take in right now so give yourself some space. Even if you avoid chemo, the radiotherapy is absolutely exhausting and it takes several weeks after it has ended to start feeling something like.
Ok so how to tell the kids. Two things to say. Firstly, try not to unnerve them too much. On the other hand dont be too hurt if they seem a bit dismissive of it...after all if you tell them in a understated way then they might have an understated reaction. It might be different for your daughter.
How about "I need to talk to you about something.....I have got a lump in my breast so I will have to have an operation to have it removed. There is some cancer there but the doctors can treat it so although things will be tough for a while, I will be Ok and will be going back to Uni" Make sure they know they can talk to you or ask you anything, if they ask about survival, the survival rates are now almost 90% (and dont forget that a lot of ladies are quite elderly who get it) PLUS there is no spread detected at the moment.
There is a brilliant site here for teens whose parents are going through cancer treatment
And there is an excellent one here for you. But the best help of all is your friends and some hugs.
Have a barrel-load of hugs from me, and we are here for you 100%
Posted on: May 31, 2012 - 4:26pm