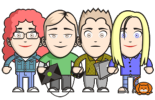 No3 son has just asked if we can't all go on a 'proper' holiday this summer. I think he means us all going on a plane and somewhere warm and sunny. (Normally we just go to stay with my mum in Germany which is of course not a 'proper' holiday).
Any ideas how I can do this for them on a tight budget, even if it's only for a week or so?
Posted on: April 8, 2012 - 10:09pm
Parenting specialist

Hi Hopeful
I will let you into a little secret! I have been talking with the Youth Hostelling Association who are interested in us helping them with a new promotion for their summer hols. When I find out more I will let you know, but may include a discount.
I have been on a PGL holiday with my daughter and that was a lot of fun, reasonably priced and good for team building and the adventurous!
Also I recently met someone who had done a homeswap with a couple in Italy, she said it was great. Would you consider doing something like that?
Posted on: April 9, 2012 - 2:13pm